Rockingham County community talks through conflicts over public education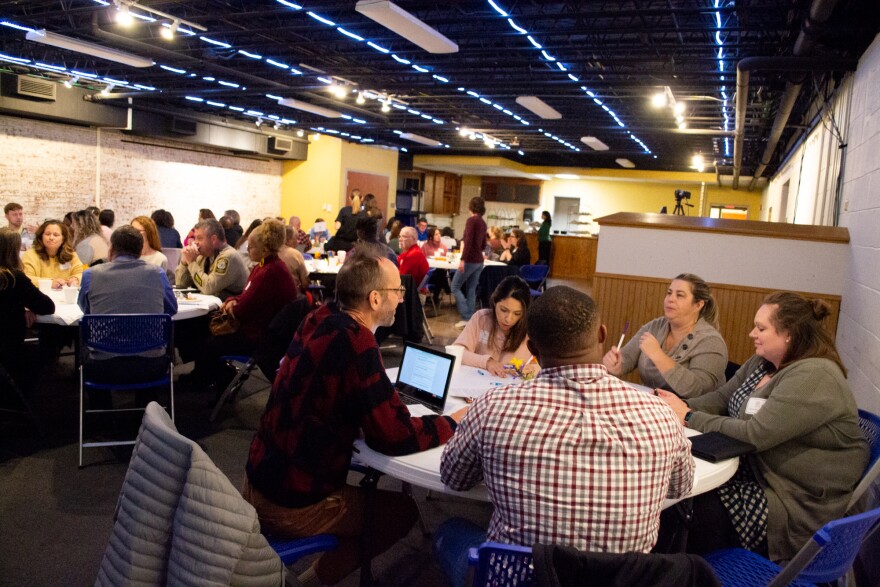 Public education is a constant target in America's current culture war. Is it possible for people with deeply held, differing beliefs about the role of public schools to sit down and discuss them respectfully? One local school district is trying. WMRA's Randi B. Hagi reports.
Last year, Rockingham County Public Schools launched a community dialogue initiative. Its purpose is to develop a framework for how parents, educators, and community members can discuss challenging issues – without those conversations devolving into screaming matches over gender identity and what books should be in the school library.
School administrators started with a small advisory group of six people with varying political views. Then, they started inviting more people to participate – expanding the group to 20-some, and then 80. On March 23rd, they'll hold a meeting open to anyone connected to Rockingham County Public Schools to engage in constructive dialogue.
DEE GRIMM: The process is also very rooted in starting with personal stories and backgrounds, because when you bring that to the table, suddenly, people become human.
Dee Grimm retired from the school district after teaching middle school English for 10 years, and high school for 35. She considers herself "lightly left." While staying engaged in education issues from retirement, she was alarmed by some people's behavior in school board meetings and online.
GRIMM: It's taken on an increasingly militant, "we've got to stop the communists."
… It's like, wait, I've lived among you people and worked with you and taught bunches of your kids!
Here's a snippet of one particularly jarring school board meeting in 2021, in which grown adults were openly shrieking at statements that offended them.
PUBLIC COMMENTER: If God exists – [audience members scream, boo] God – [jeering continues]
To make sure the dialogue process was constructive, participants had to agree to a set of ground rules assembled by Facilitator Catherine Barnes, such as seeking to understand differences rather than judge them.
Another retired educator, Joe Showker, was a part of the initiative's original advisory group.
JOE SHOWKER: It was very productive, and very, quite frankly, inspiring.
He identifies as conservative, with traditional family values that include being a good citizen and co-existing with people you disagree with.
SHOWKER: I think … kids being at home with lockdowns and doing all their classes online led parents, really, across the nation to be more cognizant of the instruction that was going on in the buildings, and that led to a lot of questions about the nature of instruction and curriculums. And that, combined with the culture wars … almost created a wedge between parents and schools.
Cecille Deason definitely felt that wedge. She too came into the discussions as an educator. She's a theater and Spanish teacher at Turner Ashby High School and Pence Middle School, and has three kids in the school district.
CECILLE DEASON: I felt very much responsible for going, "no no, you say that, but that's not what's actually happening." … For example, "well, we need to start saying the Pledge of Allegiance every day." [pauses] We do. Every single day.
The experiences she brings to the discussion also include having a mother who's an immigrant, and a child who's transgender.
DEASON: There were some tough conversations. … But in the end, our agreement was that we have to respect each other. … It's very emotional, because these are real things that are happening to people. … One woman shared about her child attempting to take their life, and that's so hard to hear, and then you want to comfort them.
Donica Hadley came into the dialogue knowing that connection was possible across the divide. She's Black, tends to vote Democratic, and has worked in education for more than 20 years – including five years as the assistant principal at Plains Elementary School in Timberville, where the majority of students and staff are white. She also has three kids at RCPS.
DONICA HADLEY: I taught in a school that did not share the same values as mine. Nobody looked like me. And yet these were people that I loved, and loved me.
But she's not sure what to expect at the big meeting later this month.
HADLEY: That dialogue eventually became productive because we built relationships, and I think it's going to be a very difficult task to all of a sudden go public. … We just, we need to do better. Our kids deserve better, and what … they have seen in the last several years has not been the best of us. But it's not too late to change. I still have hope.
Dave Dean also has reservations. He's a lifelong resident of the Elkton area, a father, and works in the communication industry. Dean said he's conservative about most things, with some libertarian views and some "classically liberal" inclinations when it comes to labor and business.
DAVE DEAN: I still am hopeful that there will be an agreeable outcome for all the stakeholders in this. I just think at this point I'm not as hopeful as I was to begin with. I think there's too much of a divide between how people … they are going to raise their children and how they want them to be raised.
In the group's report to the school board last month, they noted that few issues spark more controversy than students' gender identity. Dean said this was a sticking point for a lot of parents in the county.
DEAN: Some parents on one side don't want their child to have any autonomy until they leave home. On the opposite side, you have parents who are going to give their child full autonomy as soon as they're able to express themselves.
So… where do the kids stand in all of this? We'll hear from a few of them in part two of this report, tomorrow.