Bridgewater College shooter case continues on to grand jury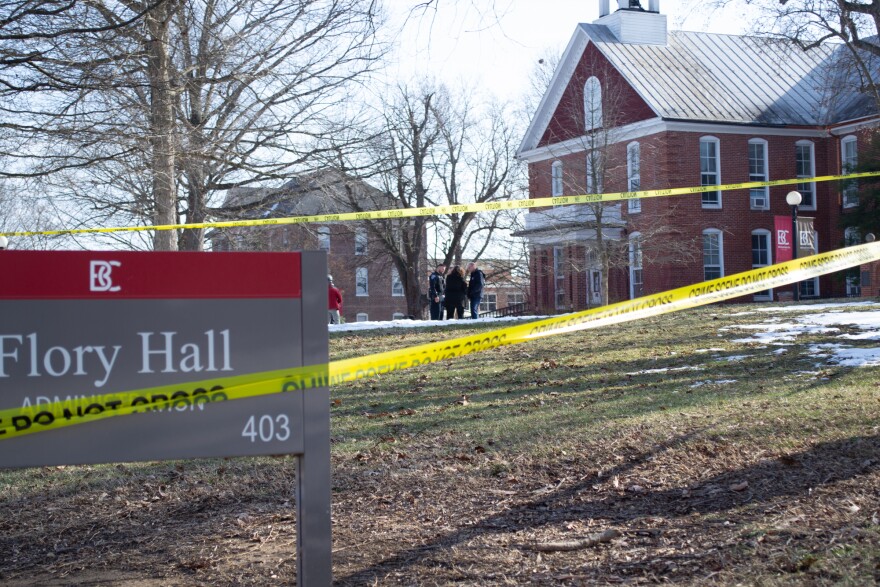 In February, a gunman killed two Bridgewater College security officers. On Wednesday, a judge found probable cause for multiple murder charges and other felonies. WMRA's Randi B. Hagi reports.
Alexander Wyatt Campbell appeared before a packed and, at times, emotional courtroom for the preliminary hearing. Campbell is accused of killing Campus Police Officer John Painter and Campus Safety Officer J. J. Jefferson on February 1st of this year.
Commonwealth's Attorney Marsha Garst called five witnesses to the stand – one college student who witnessed the shooting, and four law enforcement officers. The college student testified that he saw the officers approach Campbell, who was carrying a large duffle bag. The student saw Campbell pull a small handgun out of his coat pocket and heard him fire five shots. The student then said he ran through campus, screaming for people to get inside.
According to the autopsy reports, Painter was shot three times, and Jefferson was shot twice. Painter's gun had been taken from its holster, and was later recovered from the North River.
Harrisonburg Police Officer Brooke Wetherell, who arrested Campbell near the North River, said she saw blood coming from his forearm, and he said he had been shot by the officer that he shot. Campbell's coat and duffle bag were found nearby. Among their contents were his driver's license, a lockpick kit, and multiple firearms.
Based on the testimony of Virginia State Police Special Agent Heather Marshall, it sounds as though Campbell had been surreptitiously living on campus for some time. In a basement closet of one of the halls near the shooting, investigators found Campbell's belongings, including food, laundry detergent, and ammunition. There was also a calendar on which he wrote notes about his daily habits, including which buildings he would shower and take his laundry to.
Judge John Stanley Hart found probable cause for all charges, and sent the case to the next grand jury, which convenes on November 21st.